WHY CHOOSE ECO-BOND?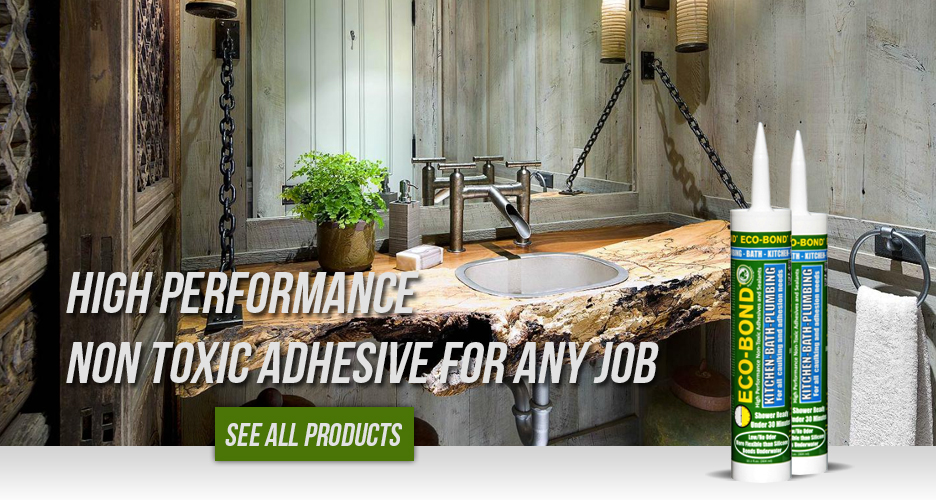 NON-TOXIC REPLACEMENT FOR ALL SILICONES, CAULKS & ADHESIVES:
ECO-BOND Adhesives is unlike any other product on the market. Each ECO-BOND product can be used as a caulk, adhesive or sealant. You will no longer need to purchase multiple products in order to complete your project. It is like have an entire aisle of adhesives in one tube.
NO/LOW ODER:
ECO-BOND® does not off-gas any VOC's and drys odorless making bonding without ventilation posible and meets all Hypoallergenic standards.
COMPETITIVE PRICE:
All ECO-BOND® products are priced below the comparable non-environmentally friendly products in the same category.
BONDS UNDERWATER:
All ECO-BOND® products can bond underwater, even in salt water conditions. Currently, only silicones are waterproof but cannot be applied underwater like ECO-BOND®.
MORE FLEXIBLE THAN SILICONE:
ECO-BOND® will flex without breaking farther than the best Silicones.
FAST TACKING:
All ECO-BOND® products are fast tacking. Kitchen, Tub and Bath and Ultra Clear are shower ready in 30 minutes.
FASTER CURE TIME:
When used as a sealant all ECO-BOND® products are shower, tub, or outdoor element ready in a market leading 30 minutes or less.
STRONG BOND:
Put any ECO-BOND® product toe-to-toe with a similar product in any category and ECO-BOND® will not only have more bonding strength, but will bond to more surfaces than the competing product.
ENERGY EFFICIENT AND THE CATEGORY LEADER IN GREEN:
No one beats ECO-BONDs green standards for LEED and clean air quality or brand recognition in the market as an Eco-option.